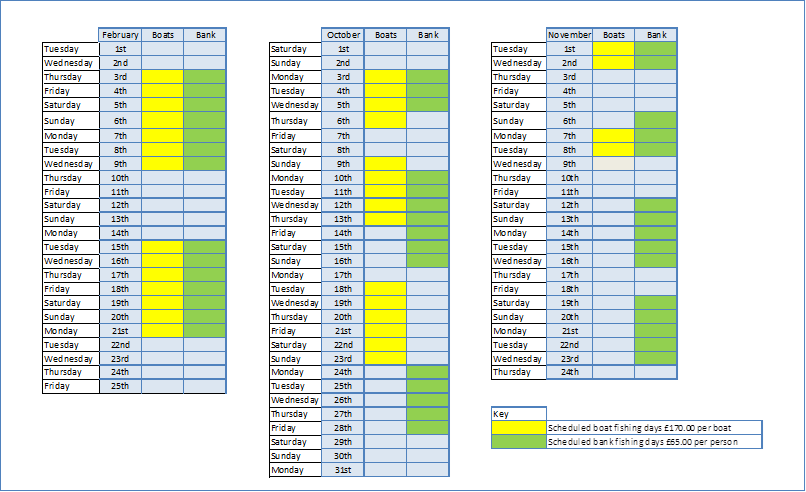 Guided days with John Horsey-2022 dates now Fully Booked!
11 days of Guided Pike Fishing with resident professional guide John Horsey will continue to be offered in 2022.
John has been guiding on Chew Valley Lake for the past 25 years and has been involved with the pike trials since they began. His knowledge of the lake and his incredible record speaks for itself with many captures of pike to over 30lbs using both lures and deadbaits. He also was present when a magnificent fly caught fish of 40lb 8oz graced his net whilst guiding Enrico Pini.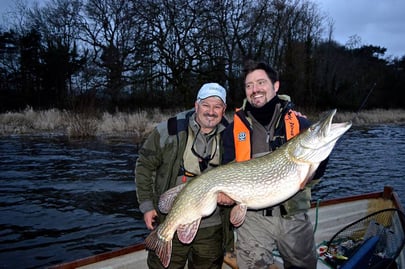 Bristol Water are offering John's services as an extension to the days already offered in 2022. All bookings are to be paid directly to Bristol Water Fisheries and notification of attendees must be given with 24 hours of booking date.
John Horsey said:


"These days are primarily aimed at pike anglers who have not fished at Chew in the past, or those who wish to know more about fishing for pike on this very special venue "
These guided pike days are for either 1 or 2 anglers per session and all tackle can be provided if necessary. Anglers must adhere to the Bristol Water Fisheries pike fishing rules and regulations as described on our website.
This offering is priced at £550.00 and payment must be made to Bristol Water on application. To book a day or for more information, please ring Woodford Lodge on 01275 332339.
Available dates are as follows:

Friday 4th February (BOOKED)
Saturday 5th February (BOOKED)
Tuesday 15th February (BOOKED)
Sunday 20th February (BOOKED)
Tuesday 4th October (BOOKED)
Sunday 9th October (BOOKED)
Thursday 13th October (BOOKED)
Tuesday 18th October (BOOKED)
Saturday 22nd October (BOOKED)
Tuesday 1st November (BOOKED)
Tuesday 8th November (BOOKED)
Fishing dates and agreements with our stakeholders
Season 2022 continues flexibility for cancelled days due to adverse weather, offering a rescheduled date first rather than having to offer a full refund immediately.

We will continue offering weekend fishing dates, something that was well received by our customers in previous seasons.
The success of an earlier start in recent seasons means that the autumn bank and boat fishing dates will continue to commence early in October. As ever, we will monitor weed growth around this time and offer alternate dates if we feel the weed growth is a significant issue. Limiting the amount of boat fishing in November reduces the risk of cancellations due to rough weather, but it does also increase the potential for warmer water temperatures. This is something that we will have to monitor and evaluate jointly with our experienced anglers.

A continued early finish date in November supports conservation efforts; with November being a particularly sensitive time of year for overwintering birds at this internationally important conservation site. A healthy relationship with other lake users and stakeholders such as Natural England is important to the fishery and the CVL fishing community in general!
In adverse weather conditions we may cancel fishing. We monitor the weather regularly to ensure your safety whilst out on the water. Should fishing be cancelled we will endeavour to contact you to offer a re-arranged date or refund. We will always try to give you as much notice as possible, typically we aim to give at least 24 hours notice.
No, there is always the chance of boats being on the lake. We often have trout boat anglers fishing when pike bank anglers are on site. There is also the the possibility of of re scheduled boat days falling on a scheduled bank day. We do our best to ensure there are no clashes but occasionally boat fishing does get rescheduled when pike anglers are on the bank.
Finishing times
Boats

Our team of trained staff will do their best to get boats ready for 9am on the morning of your booked day, occasionally boats will be delayed in getting out on the water especially during periods of poor weather. Please be aware that there is strict finishing times and that any boats late in may incur a ban. Fishing times vary dependent on sunset, sunrise and weather conditions. All boat anglers are expected to take note of the return time displayed in the lodge. If uncertain, please ask a member of staff.
Bank

It's important customers take note of permitted arrival, fishing and departure times when visiting the fishery.

To aid customers with their 2022 bookings, Bristol Water has created the chart below detailing some key times relevant to 2022 bank pike fishing permits. It's important to recognise that anglers found on Bristol Water property outside of these times will be considered as trespassing and will be in breach of Bristol Water rules and regulations.

Early morning and late evening sample checks are conducted during the season by staff and we remind customers that there is no staking of swims. Please ensure you comply with all requests of the fishery when visiting.
| | | | | |
| --- | --- | --- | --- | --- |
| Dates | Anglers are permitted to access Bristol water property at: | Anglers are permitted to start fishing at: | Anglers must cease fishing at: | Anglers must leave Bristol water property by: |
| 3rd February - 9th February | 6:10am | 6:40am | 18:10pm | 18:50pm |
| 15th February - 21st February | 5:45am | 6:15am | 18:30pm | 19:00pm |
| 3rd October - 5th October | 5:45am | 6:15am | 19:45pm | 20:15pm |
| 10th October - 16th October | 6:00am | 6:30am | 19:25pm | 19:55pm |
| 24th October - 28th October | 6:25am | 6:55am | 18:55pm | 19:25pm |
| 1st November - 2nd November | 5:30am | 6:00am | 17:45pm | 18:15pm |
| 6th November - 8th November | 5:45am | 6:15am | 17:30pm | 18:00pm |
| 12th November - 16th November | 5:55am | 6:25am | 17:25pm | 17:55pm |
| 19th November - 23rd November | 6:10am | 6:40am | 17:15pm | 17:45pm |