Applying for pike fishing
2022 dates to be released soon. An announced will be made in due course
Dead bait and lure fishing
Each season we experience a phenomenal amount of interest in pike fishing by dead bait / lure methods at Chew Valley Lake. Unfortunately the demand is so great they we cannot always cater for everyone. In an effort to improve customer experience and reduce associated admin costs, Bristol Water will continue selling 2021 pike fishing tickets online.
Providing a online booking platform incurs a small admin charge. Admin fees will show during the booking process.
Tickets for 2021 dead bait/lure fishing will be available from 7pm on Thursday 28th January and will be available until fully sold out. Predator season ticket holders will be called in advance of January to book their permitted allocation of tickets in advance of general release.

To book tickets online, click here:

Customers booking permits will receive a digital e ticket once purchased. It's important fishery rules and regulations are read carefully before visiting our waters, Ticket terms and conditions can be found at time of booking.


How many tickets can I buy?
Customers who choose to apply for the 2021 pike fishing at Chew Valley Lake will be able to purchase as many permits as they would like. Tickets are available for boat and bank fishing. Many customers choose to have a mixture of boat and bank tickets. Each boat ticket enables two anglers to fish, bank tickets are sold as singles but a maximum of a pair can be purchased for any one given day.
Can someone buy tickets for me? I do not have internet access.
Yes*! If you do not have access to the internet we will permit another person to purchase tickets for you. However, it is YOUR responsibility to notify us of someone acting on your behalf. Bristol Water Fisheries must be notified, in advance of tickets going on sale, via email (woodford.lodge@bristolwater.co.uk) should you wish to do this. We will send a reply with approval if we feel that this is a legitimate request.
Please note that the purchasing of tickets by proxy is only for customers who genuinely do not have internet access.
*Unfortunately, the person you allocate to purchase tickets for you cannot have tickets themselves.
How much are tickets?
Ticket price varies dependent on which ticket you purchase. For full details and pricing please see HERE
When do I need to pay for my tickets?
Tickets must be paid in full at time of booking. Tickets will not be held for a customer if full payment is not received at time of booking.
Blagdon pike fly fishing
Fly fishing by special permit for pike at Blagdon lake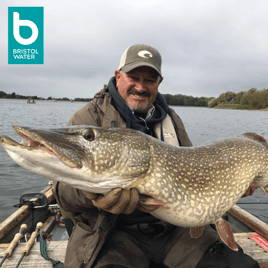 Pike fly fishing at Blagdon has been permitted by special permit since 2017. home to some very special fish Bristol Water are pleased to announce further dates for season 2021.

Offering 20 days in total, dates will be available in May and October 2021.

A total of 5 boats will be available on each day with exception of days on which a Bristol Water Guided Service is provided, where there will be 6.

Dates

May 2021:


Thursday 6th May, Friday 7th May ,Wednesday 12th May, Thursday 13th May, Friday 14th May, Wednesday 19th May, Thursday 20th May, Friday 21st May, Wednesday 26th May, Thursday 27th May

October 2021

Friday 1st October, Saturday 2nd October, Wednesday 6th October, Thursday 7th October, Friday 8th October, Saturday 9th October, Monday 18th October, Tuesday 19th October, Thursday 28th October, Friday 29th October.

Why so few tickets?

Blagdon Lake is almost a third of the size of Chew Valley lake, spanning roughly 400 acres in size. Bristol Water feel that significant pressure to the stock found present in the lake would be unsustainable. Every site is different and we recognize that the stock found in the lake may not be as tolerant to pressure seen at our other water, Chew Valley.

Why are you only permitting Fly Fishing for pike? Why is lure fishing and dead bait fishing not permitted?

During October fly fishing for trout will continue to take place from boats at Blagdon Lake. Due to the lakes size Bristol Water Fisheries believe that permitting lure and dead bait fishing at this time may interfere with other customers enjoying fly fishing for trout. Bristol Water also feel that fly fishing for pike, carried out in the correct way, represents a sustainable way of fishing for pike and is in fitting with Blagdon's worldwide reputation as a premier fly fishing water.

Why not have pike fishing by dead bait and lure later in the year?

Blagdon is an incredibly important SSSI and is home to an array of rare plant and bird species. Protected unimproved meadows and grassland around this site host some of the rarest plant species in the country. Migrant and overwintering birds also use this site. Bristol Water have a legal obligation to protect these species.

Blagdon differs from Chew Valley in that whilst they are both vital habitats for overwintering birds, activities at Blagdon have the potential to cause relatively a much higher level of harmful disturbance due to the narrow topography of the waterway and its margins. It is crucial that Bristol Water protect key habitat for national migratory wildlife corridors and for biodiversity in general.

Allowing dead bait and lure fishing to commence during the trout fishing season would require additional assent by Natural England. Wiht the current season stretching from March until October, requesting permission for pike fishing outside of the trout season is not something Bristol Water Fisheries would be prepared to do at present.

How much are tickets going to cost?

All boats will be priced at £425.00 (inc vat) each with the exception of our guided boats. This would permit two anglers to fly fish for pike from a boat for one day.

Why are ticket prices so high?

Bristol Water believes pike fishing at Blagdon lake is a premium product. Previous surveys carried out by our team have indicated that there are some particularly special pike found in the lake. Since 2017, fish to over 44lb have been caught on the fly during these sessions.

I am a predator season ticket holder at Chew Valley lake, can I use one of my pike fly fishing days?

No, Predator season tickets only permit fly fishing for pike at Chew Valley Lake.

How will tickets be sold?

Anyone interested in purchasing a ticket should contact us via our contact form found HERE or directly to wooodford.lodge@bristolwater.co.uk. Emails must be titled BLAGDON PIKE. You will be required to supply your NAME, FULL ADDRESS, EMAIL ADDRESS and CONTACT TELEPHONE NUMBER.

When do I need to apply by and when will the draw take place?

All customers interested in applying for tickets at Blagdon in season 2021 must enter by Sunday 21st March 2021. Our team will use a computer generated number randomizer to obtain an order for which names will be called to book. We will start calling customers as of Wednesday 24th March 2021 to get booked in.

When will we call you?

Our team will call each individual in order after the draw has taken place, commencing Wednesday 24th March. In the event that we are unable to get hold of you a message will be left and the order of bookings will continue. It will be YOUR responsibility to call us back and book your dates.


Payment:

Successful entrants will be required to pay for their draw dates in full within 48 hours of being called.


Full terms and conditions can be found HERE



Are anglers permitted to swap dates with other successful entrants?



YES! Bristol Water will permit anglers to swap purchased tickets with other SUCCESSFUL APPLICANTS provided Bristol Water fisheries are informed of this change within 72 hours of the date they are due to fish. Tickets cannot be purchased via proxy and the named permit holder must fish on the dates they have booked. Failure to comply with this rule may result in a ban from fishing at our waters.



I am entering the draw for a full boat. Does this mean I can bring someone with me to fish with?



Yes, you are entering and paying for a full day's boat fishing. Bristol Water permit you to bring a fishing partner on any ticket you are successful in purchasing.



Can I bring my own net, mat, anchor and drogue to the water?



No. Bristol Water will provide all of these items for the pike fishing activity for bio security and pike welfare reasons. Bio-security helps prevent the spread of non-native species and diseases. For more information please take a look at the NNSS website found HERE.

For more information on pike welfare please take a look HERE



How are you ensuring pike welfare? What if an inexperienced angler gets a ticket?



Bristol Water Fisheries take pike welfare seriously. Our lakeside team will be patrolling the lake during this set of trials and we encourage anglers to report any poor handling of fish to Bristol Water Fisheries. Successful applicants are expected to have, at minimum, a basic understanding of fish handling and fish welfare before heading out on the water.



What are the rules?



A special set of rules have been produced for this site. These include but are not limited to:

- A minimum of 40lb wire must be used for all traces. Heavy mono is not permitted to be used as a trace material. Traces must be a minimum of 12 inches in length.



- Angler's fly fishing for pike at Blagdon Lake must use nets, mats, anchors and drogues provided by Bristol Water. Anglers are not permitted to bring to the water any of these items. Anglers are requested to bring suitable unhooking tools to return fish.


- Only fly-fishing is permitted. Only one rod may be in use at any time. Rods must not be left unattended while fishing. The possession and/or use of bait of any kind, spinning, trolling and trailing are prohibited


- Flies over 5 grams in weight are not permitted at Blagdon Lake.


Full details on the rules for pike fly fishing at Blagdon Lake can be found HERE.

What about the BW guided days, what information can you give on them?

Bristol Water Guided pike fly fishing days are available with our resident guide, John Horsey

Bristol Water guided days with John Horsey: HERE

All guided days will be priced at £825.00 per boat and will be sold on a first come first served basis. Due to covid-19 restrictions during season 2021 only one other angler will be able to join a boat with John Horsey.

Bookings can be made by calling 01275 332339. Payment for guided days is required at time of booking.