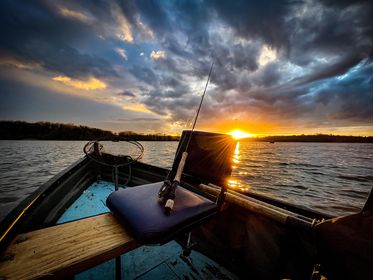 Latest Fishery Report
The trout season here at Bristol Water Fisheries is in full swing. It's been a pleasure to welcome familiar faces back to the water as well as new; it's safe to say the season really has started with a bang. We have stocked an impressive 4,500 fish across the 3 tanks at The Barrows . 7,200 fish have been stocked into Blagdon and 11,000 into Chew. It's been frantic for the team with the close proximity of the pike fishing and storms that have rolled in throughout the last month or so, but we are all pleased to see anglers back out on the water.
Chew Valley Lake
Season Ticket holder day on Chew was the 1st March this season. Some good numbers of anglers headed out despite the challenging NE breeze which made it feel very chilly on the bank side. Herons Green was a hotspot for many although reports of fish being caught on every bank around the lake ensured some cracking early season sport. One noteworthy catch was 23 fish to a bank angler off Walley including 2 fish over 5lb. It was pleasing to see some overwintered fish mixed in amongst the fresher stocked fish including a fine 8lb 2oz rainbow from Mr Smart.
Some good comments have come in about the size of the fish with most anglers finding fish in the 3lb+ category amongst their bags. Methods and tactics wise lures fished on slow intermediates or similar have been popular for many although in recent weeks black buzzers have hatched in profusion and this has tempted some great nymph and buzzer fishing for those anglers who prefer to fish more imitative patterns.
Boat anglers first hit Chew on 3rd March. The first 2 days saw 47 boats out fishing for the trout with an astonishing 1,194 fish caught. Despite the challenging conditions courtesy of the remnants of storm Eunice, the fishing was good. Things have settled down since and this warmer weather has really helped see the fish feed heavy. Mr Dave Reynold's smile certainly says it all about the early season boat fishing at chew.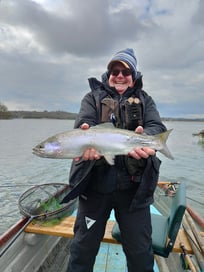 Popular bank fishing spots have included the Oak tree at Herons Green, North Shore, Walley and more recently Wick Green. A reminder for anglers fishing at Walley that access continues to be through the sailing cub entrance and that gates must be closed and locked after entering company property. Never leave gates unlocked or open.
Pike fly fishing has been testing, as it so often is, at this time of year but for those who have ventured out the rewards have been particularly memorable. We couldn't write an update without mentioning the colossal 43lb pike caught by Mr B Hawyes on a Woolly Bugger of all things.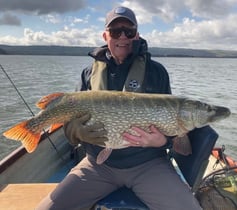 Mr Hawes did incredibly well to land this special fish on just 10lb Fluro. An arguably accidental catch whilst targeting trout but does go to show that with a little care and luck these monstrous fish can be landed safely if you do happen to hook up. This isn't the first time we've seen big pike caught on smaller patterns. Contrary to popular belief their food sources aren't always large in size. Jack pike in particular, do often feed heavy on the smallest of insects such as buzzer pupae. We would recommend scaling down on fly size at this time of year and fishing patterns a bit slower than usual. A figure of eight retrieve can be deadly for pike in the right conditions.
Blagdon Lake


Blagdon's season ticket holder day started off tricky with just a scattering of fish here and there. It seemed like the fish were either staying offshore or were in areas unreachable in the day's conditions. Despite some 7,000+ fish being stocked, it felt very barren in some areas of the lake. Where had the fish gone?

Official opening day gave an answer when conditions improved and boat anglers started to hit big numbers of fish in and around areas like the Top End and Rugmoor. Thankfully for bank anglers the fish had also started to move into the margins a bit more consistently and areas like Pegs Point, The Ash Trees and Bells Bush really came to life.
Similar to Chew, floating lines with buzzers and diawl bach's proved a popular choice although it was noticeable that anglers fishing lures on sunken line tactics were getting the real cream of the crop. Fabs, blobs and mini lures all proved effective.
Over the last week or so fish have been found in other areas including the shallow water in front of the lodge and Wood bay. Butcombe seems relatively quiet although there were some fish being reported from the very end of North Shore so this area will be worth a look if visiting soon.



Barrow Tanks
The Barrows kicked off on 22nd February with some lovely fish showing for season ticket holders including some stunning overwintered fish. Both Clive Blacker and Sean Glover had some quality fish within their bags as you can see below.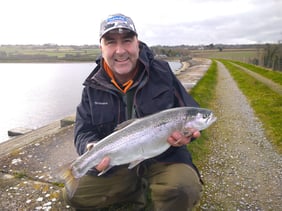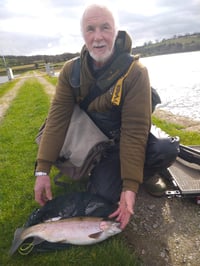 Diawl Bachs and damsel nymphs proved to be popular fly choices during the first week with an apparent switch to buzzers more recently. Tank 2 is outperforming the others at present and the western corner near the tower has been a particularly favoured spot of late.

As the weather becomes more settled, expect to see fish spread out more readily and as we always say, it often pays to go for a bit of a wonder to pick out a better fish or two when visiting the tanks. Don't stick to one spot, keep mobile to give yourself the best chance of bumping into a fish or two.