Latest Fishery Update
An exceptionally busy start to the season, especially at Blagdon with some superb boat fishing for the last few weeks. As the pre season stocking's start to slow to the continued pressure the lakes have been topped up with 1,000 fresh fish hitting Chew Valley, 500 going into Blagdon lake and 800 hitting the tanks on the week commencing the 28th March and another recent stocking this week too! We've been keeping the fish going in to ensure the good fishing continues.

Buzzer hatches have been phenomenal of late and its probably unsurprising to hear that most anglers have been fishing their favored buzzer and nymph patterns to tempt the fish. At times there have been clouds of buzzers that have simply been overwhelming. Little action on the surface but then again why would the fish bother to show on top when there must be so much food mid water and deeper? The weather has been temperamental and disrupted play at times as storms have rolled in on occasions making it a little harder to get out on the water. Thankfully light warm winds are moving in and this Easter bank holiday weekend is looking to be warm and overcast.
Chew Valley Lake
Whilst Chew has not been as easy as Blagdon of late it has provided a variety of areas to target. Those fishing the Airflo Championship qualifier on the weekend found fish in Herons Green, the North shore and picnic areas as well as areas around Stratford and the False island. Larger fish have shown around the open water areas of the dam basin and the middle of the lake too with no less that two double figure rainbows being recorded recently including the two pictured below which were both carefully released after quick pictures.
.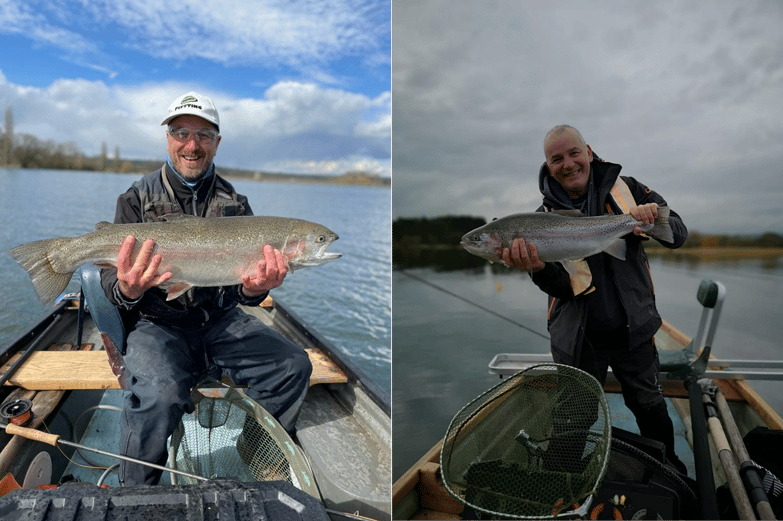 Most of the fish still favoring buzzer and nymph patterns fished almost static on a floating or midge tip line. A few anglers have been fishing a blob or F.A.B on the point to good effect too. There are still occasions when the fish are wiling to chase, generally speaking these have been on the windier days when the water is full of fresh oxygen from the turbidity and stirring.

Some really encouraging reports have come from the bank around Nunnery point of late although Woodford, Walley, the North Shore and the corner near 'bobs house' in Herons green have also proved popular. For the bank angler, there aren't many areas at present that you wouldn't expect a fish or two but there are certainly areas and conditions where fishing can be more consistent at times.
Pike fly fishing has really tailed off although Mr Durrant noted some good sport in and around Villice bay only a week or so ago and others have reported loosing big fish too. Ironically, there's been yet more big fish caught by mistake by trout anglers of late including a large 20+ fish that fell to a small black buzzer to Mr M Thomas' rod yesterday.
There are signs that some fish are spawning but not every fish will want to spawn at the same time. Some may have finished already, some may be starting. Essentially if a fish is preoccupied with spawning it wont feed but there may be others that are starting to take a fly again or considering moving out to more open water. For the pike fly angler this isn't an easy time to target the predators but things can change rapidly at this time of year and persistence can occasionally pay off.
Algae is starting to appear as the weather warms but generally speaking the water is still very clear for this time of year and the fish are feeding well. The rod average has jumped in the last few days to 11.4 fish per person, no doubt in response to the fresh fish being introduced, last week the rod average was 5.57 per rod.
Bookings are very busy at present so we would strongly recommend booking in advance to avoid disappointment. Bookings can be made during office hours over the phone on 01275 332339, instore or via Clubmate online.


Blagdon Lake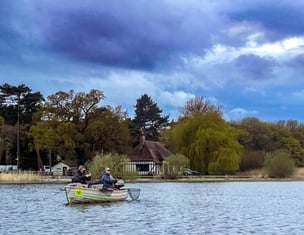 IIt's been refreshing to see that the recent stocking at Blagdon has opened up a few new areas to target after weeks of the Top End being the hot spot. Anglers have recently discovered fish in and around Home Bay and Green lawn although there are also fish to be found around the front of the long and into Cheddar Water.
The Top end continues to produce although has got noticeably harder in recent weeks, unsurprising perhaps considering the level of pressure this area has sustained. It was a bit busy at times!

Much like Chew the order of the day seems to be anything black, particularly superglue buzzers an black Muskins although a few anglers have found fish taking damsels too. It's been noticeable lately that alder flies have started to make an appearance once again. Their larvae are very large and olive in colour so likely a case of mistaken identity.

Off the bank, Green lawn and Home bay have been the best areas recently. Bells Bush and Wood bay are also still producing although the fish in these areas can be a bit finicky moving just out of range at times. Weed remains generally ok although this may start to change as this warmer well approaches.


Barrow Tanks
A tough few weeks at the tank despite some fresh fish being stocked recently. The 'Barrow Bash' event kindly organized by the B.R.F.F.A and supported by Franks Flies and Flyfishing Bulldog had generally good support although disappointingly only 13 fish were caught between the 16 anglers taking part. Despite this there were some stunning fish caught including at least two fish over 4lb, one pictured below for competitor Mr A Coxhead.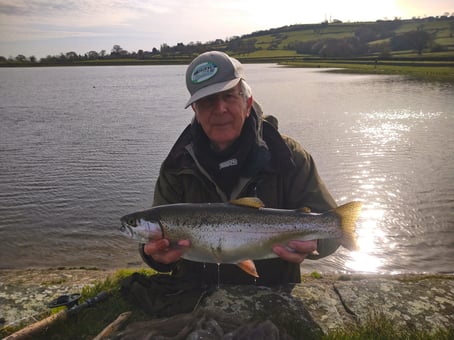 It's worth noting that the temperature changes over this weekend were very noticeable and this had an impact on all of our waters. Those fishing Chew had incredible fishing on Friday but found it much more challenging come Saturday when temperatures dropped overnight and anglers were greeted with bright sunshine and a moderate wind.

At the tanks the usual spots were most consistent including 'stocky corner' on tank 3. A lot of anglers chose the comfort of the natural bank on two where it was a little warmer and settled. Nymphs' and buzzers fished almost static or under the bung were the order of the day for most. On days where there are big changes in temperature sometimes the fish just don't want to play ball. Here's hoping this warmer spell triggers them back into feeding mode!

Finally, this Easter weekend is particularly busy at the lakes so please do book to avoid disappointment. We've a couple great events taking place including the Airflo Celtic League and the Scierra Pairs. Bookings can be made during office hours at Woodford lodge in person over the phone on 01275 332339 or online anytime via our booking platform.

A reminder that Woodford Lodge tackle shop will be closing at 12:30pm both Saturday and Sunday this weekend coming. We will be open as normal (8am-4:15pm) every other day.