There's not long to go now! Boat fishing commences at Chew Valley tomorrow along with the full opening of bank fishing. We cant wait to see you all back enjoying the sport.
A couple new things to be mindful of if you are planning to boat fish this season.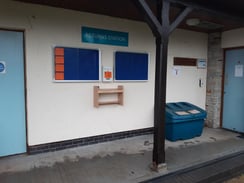 We're trying to improve the ways in which we collect return card data and we want to make this as easy as possible for customers to do. To help, located near the scales on site, we've installed a new return card station at Woodford Lodge.

For boat anglers. the process on arrival stays the same. Boat anglers will need to sign in with the front office where you will be issued with a jetty pass and lifejackets if required. The same process as last season. Staff on the jetty's will issue your boat number, you wont get these from the office.


When it comes to return cards, our office team will pre load a return card on your behalf with all of the basic info. Your boat number, lead booking name and permit details like ticket type will be completed. This is to make life as easy as possible for you, we all know how keen we are to get home after a long day on the water! You won't take your return out with you on the water, rather we will place it in the new return card station where it can stay nice and dry whilst your fishing. There's nothing worst than trying to complete a return on a soggy return card that's been in and around the boat a few times.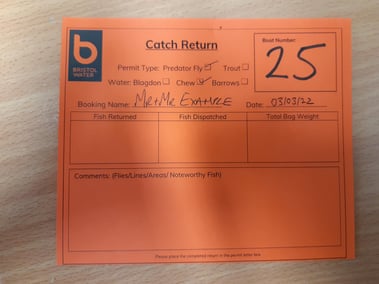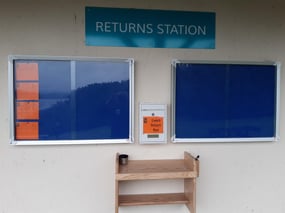 After fishing, you'll need to complete the return card that belongs to you. Simply take it out of the notice board area and jot down your catch details. You can add as much or as little detail as you would like but we do insist on recording the number of fish caught and the number of fish released. If you want to add comment about flies, areas, average sizes or particularly big catches you can do so in the comments or average size boxes. Once completed, simply pop the return card into the post box and your done! There's a pot for both pins and pens at the station to make life easy and a nearby hand sanitizing station and toilet facilities if you require them.
If you happen to forget to fill in your return card we would encourage you to complete our online form and will aim to prompt you in following days by phone or email.


Lifejackets used can be dropped in the nearby boxes next to the return station. We've purposely tried to keep all of these facilities close to the car park and path leading up to the lodge so they can all be done at the same time.

A similar station will be installed at Blagdon in due course. We will update once complete.
Boat seats and safety

In an effort to improve angler safety out on the water we've introduced a new fishery rule for 2022. Tray type boat seats and thwart boards

must

be secured to the boat by lashing or ratchet strap. Boat anglers will be required to bring a strap to secure their thwart board or tray type seat in position when boat fishing with us. If you don't have one, don't panic, we have managed to secure some supplies for our shop keeping them as cheap as possible at just £2.50 a pop! You only need one strap and it should be secured towards the front of the thwart/tray to ensure it doesn't lift if conditions get a little choppy or an accident were to occur. Please help us by taking this little step to keep you safe on the water.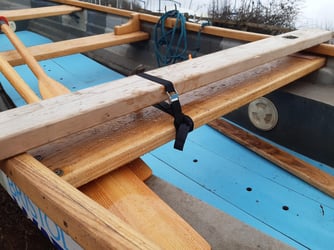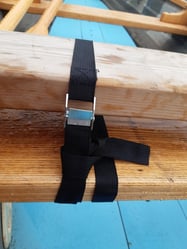 A full list of our fishery rules and regulations can be found HERE. We'd encourage anglers to refresh themselves of our rules and regs before hitting the water this season.

Finally, tight lines to everyone visiting in coming days. We cant wait to see how you all get on.